A lot more items are now back available to order.
We are now shipping orders. There has been a rush on a few things, in particular we are currently out of T shaped door handles.
18thMay 2021
There are still a few things to do before re-opening including unpacking stock that was sealed up to protect it and a general clean up fo the work and packing space - which of course has mysteriously filled with other stuff during closure.
There will be some small changes. The postage rates have increased so the postage and packing charges have risen slightly as well. At this point the prices of etched and white metal parts are still about the same. 3D printed stock is more of a problem because of the rises both in costs due to brexit and also general price rises at Shapeways. It is likely that etched prices will rise in time as metal prices have soared but we have plenty of stock for most of it.
We plan to discontinue a number of products. There is an ever growing range of good quality 3D printed models available from other sources that now covers several of our etched kit models such as the class 71 and class 74. Where this is the case the etched product lines will not be re-ordered or will be converted in some cases into detailing kits such as etched grille sets.
3thMay 2021
We hope to re-open post covid around the 17th of May. Various things have changed since we were last open including postal charges and brexit triggered regulation. We are no longer able to supply non UK customers due to the EU cross-border vat and duty regulations being simply impossible for any small business. At this point in time shipping to Northern Ireland is unaffected but this may unfortunately change.
The postage and packing charges have been increased slightly as we can no longer absorb the cost of the price changes. Product prices have changed little but 3D printed parts are likely to rise sharply when the existing stock is exhausted.
3rdMarch 2020
Many of the white metal parts that were making a lot of kits unavailable are now back in stock. Some of the individual white-metal parts will remain unorderable until I have enough extra stock to supply them separately.
13thJuly 2019
A large amount of etched brass is now getting unpacked so expect a lot of things to come back into stock shortly, including clerestory roofs.
24thMay 2018
If you are wondering why you've not had GDPR junk mail from us it's because we don't bulk email people in the first place, and only store the data required to run the business itself. That mostly consists of financial records, including transaction details as required by HMRC rules. That is five years after the 31st January tax deadline for the tax year in question. The only people we share data with are the delivery companies in order to get your package to you, or PayPal if you ask to be invoiced for something. If you pay via PayPal then PayPal will share some data with us so we can send you the goods, but this does not include card details.
The cookies the site uses contain no personal or tracking data either. In fact if you move the contents of the cookie between different people you'll simply get a copy of the current basket and we won't know (or mind).
All data is kept behind a firewall on encrypted hard disk. No legacy Microsoft Windows systems get to touch the data. None of the data is processed in public cloud environments or outside the UK.
16thFebruary 2018
Back in business. It took longer than planned for a lot of reasons but things are now back and stock will gradually become available.
20thFebruary 2017
Owing to the house move proving rather more complicated than planned Etched Pixels is closed until further notice. The current aim is to re-open in early April 2017.
8thDecember 2016
Apologies. We are a bit behind on orders owing to flu.
Back in stock: wheels for the WIA Arbel.
9thOctober 2016
The builders have taken longer than expected but I'm now at the point of actually being able to put cupboards, shelving and stock back so should be back open soonish.
8thAugust 2016
Back orders are now cleared except for Thompson parts and Great Central coaches. I hope to have those cleared by the end of the month worst case.
Minimal project work has begun again with 13mm axle versions of the Great Central bogies, and Dean centreless 8'6 and 10' bogies being tested. We are also evaluating some new materials for better 3D print quality.
25thJuly 2016
Working on back ordered parts and other details. All planned new projects remain on hold for the time being.
14thFebruary 2016
We are now back open. Order processing may be quite slow for a while however.
14thFebruary 2016
Most things are now back in order. Everyone who was owed anything should have it. There are some backlogged special requests and invoices to do and then back in business. Hopefully therefore by the end of February.
2ndJanuary 2016
Currently we are getting things back in order after the shutdown. We are not yet accepting new orders until pending orders, outstanding requests and other paperwork is sorted.
25thMarch 2015
New stocks received. Hawksworth coaches are now back in stock as are the LSWR style grabs and door handles.
Status
LSWR 1900s profile 3D printed roof

Released
21stFebruary 2015
Product Rationalization In order to keep ever rising costs under control the following changes are being made.
Vinyl Coach Sides

Will be mostly discontinued or only produced as parts of full kits.

Coach Fittings

Some of the more obscure fittings will be discontinued rather than added to new white metal casting masters. Some of those that will need retooling are now also only available as part of full kits in order to ensure sufficient remain for the kits.

3D Printed Models

These will now be batch produced to reduce costs. When a 3D model runs out of stock it may remain so for some months, or if Shapeways continues to mess with pricing, indefinitely

'Classic' Ultima Coaches

Most of the LMS ones remain in good supply. Some of the GWR ones are close to running out and will not be re-run. LNER is close to running out of some parts. No final decision has been made on these.

Pre-grouping Coaches

We will continue to try and hold small stocks of the main pre-group coaches but re-ordering will be done less often so some parts of the range may remain out of stock for periods.

New Models

These will mostly move to batch production in the style of the Devon Belle, including more models produced on an up-front deposit basis and being made to the exact number of deposits.
However it's not all bad news. The Shapeways pricing changes increased most costs a lot, but favoured models that had a lot of material in them. Careful use of batch production along with this means we can now offer the Gresley non-corridor coaches at rather lower costs.
Status
North Staffordshire Railway For Wheelers

Released.

WIA Arbels

Released.
18thJanuary 2015
Due to lack of time quite a few things are waiting instructions. These should gradually appear over the next few weeks, slightly later than planned.
Status
North Staffordshire Railway Four Wheelers

Testers built, need to write instructions.

LSWR Ironclad Coaches

Test building brakes.

LNWR Bogies

6 wheel bogie test with 13mm wheels done, some small changes for production

LBSCR Bogie Coaches

Parts received for test build of first prototype.

WIA Arbels

Waiting final instruction tweaks.

LNWR 50ft Coaches

Production 3D printed shell received, waiting instructions.

LSWR 1900's Roof Profile Conversion

Waiting instructions.

LMS 69ft Sleeper Rework

Production 3D shell received, waiting final build test.
29thNovember 2014
After a lot of work we have finally secured a good supply of wheels on 13mm axles. Conventional N gauge wheels have for some reason been on 15mm axles for as long as anyone can remember. This forces the bogies to be overwide. By comparison the OO/EM world moved to 26mm axles long ago and the 2mm fine scale world uses 12.25mm axles. Now that the supply problems are solved further new products will begin to use 13mm axles. Currently 13mm wheels are used by the LNWR six wheel coaches, GWR bullion van and the GWR Fishbelly bogie.
With the re-planning complete after the Shapeways debacle the 2015 plans are now finalised including the 2014 items that didn't make it.
2015 Product Plans
GWR Clerestory

Dean era clerestory coaches and bogies (pushed from 2014)

GWR 40ft PBV

The classic GWR 40ft designs used for parcels and mail traffic.

GWR E157 brake composite

To accompany the existing C75 coaches

North Staffordshire Railway Four Wheelers

20ft Third, 22ft Third, 20ft First, 20ft Brake, possibly the proposed new build wheelchair/brake. These small coaches should also be ideal for a lot of little light-railway layouts.

SECR Continental Brake (from 2014 list)

Nearly completed but will be a 2015 item

LBSCR Bogie Coaches

Some additional arc roof and balloon types are planned

LSWR Ironclad Coaches

Push pull conversion sets, pantry brake first (for boat train sets), and the dining saloon.

LNWR bogies

LNWR four wheel bogies and revamped six wheel bogie

SECR/SR High Ended Open

May be 2015, may be 2016

British Rail Era LNER F4/F5

Likely to be 2016

Type 'K' Pullman

2016 or may be cancelled

4-COR 'Nelson'

Will depend when space appears on suitable stainless steel etches to do the window frames
New Product Status
LSWR 1900s roof profile conversion for the Farish generic Southern coach.

Initially done as a commission but works too well not to share! This is a 3D printed replacement roof unit to give the coaches. It gives the feel of the LSWR pattern 56' stock. Will be released before Christmas.

GWR A42/C75

Released

Gresley Hairdressing Saloon Conversion

Initial commission shipped, general release once I receive more

NLR 'high roof' First and Third

Released

WIA Arbel

Will be released shortly, all the parts have arrived and been put into boxes so nearly ready to go.

LBSCR Arc Roof Coaches

Still hope to have the third available for Christmas

LSWR Ironclad Brake

First prototype left and right handed brake third received and under construction. Hoping for a new year release.

LMS 69ft Sleeper

Final (hopefully) prototype received. Some 3D changes needed due to problems with Shapeways prints. May push into 2015

LNWR 50ft Coaches

Some should just about make Christmas, others will push into 2015
19thOctober 2014
All the longstanding order backlog should be cleared now. There are still orders to go out but those are waiting on cheques clearing and the like rather than long out of supply stock.
Shapeways have "changed" their pricing structure. Translation, they've massively hiked their prices for a lot of models. Their new pricing reflects heavily the number of parts and also the space taken. The number of parts is easily dealt with as most components can be sprued together. The space is more problematic as it appears their tools are too dumb to work out that something with a lump each end (eg a coach shell) has a big space in the middle they could use for other things. At this point the likely impact seems to be
frosted ultra detail parts and models are not (yet) affected
coaches with interiors and integrated roof will increase in price slightly
coaches with interiors and non-integrated roof will need adjusting to integrate the roof or sprue it to the body
coaches with separate compartments increase in price greatly. It's possible to do some redesign to reduce this but that will take time as Shapeways idea of "professionalism" is to give people 7 days notice of massive pricing model changes
a small number of models like the WIA car carrier cease to be commercially viable. There will be a single batch ordered just before the price hike and that's it for now
one or two things get cheaper - compartment wall packs and roofs. Not enough to offset the other costs
Shapeways rather poor handling of this also means they got a massive order rush so are running something like three weeks behind schedule. Some stuff is going to be back-ordered a bit longer
Other news: the production version of the Dean bogies is done for 13mm axles. Unfortunately getting new 13mm axle wheels is proving a problem because the law in the UK has changed on the chemical used for wheel blackening.
New Product Status
Devon Belle

Done and shipped. Some requests for etched sides, looking into the viability of this

GWR A42/C75

production shells ordered and stuck in the Shapeways backlog

GWR Clerestory

Dean bogies done, but the bodyshell now needs a partial redesign owing to Shapeways sudden price hikes

LBSCR Arc Roof Bogie Coaches

Pretty much done, price will be higher due to Shapeways changes

SECR Continental Brakes

Still on hold

4-COR 'Nelson EMU'

Waiting for space on an etch sheet for the window overlays

Type 'K' Pullman

On hold. All the Shapeways redesign work will push this probably into 2015

SECR/SR high ended open

On hold

Gresley Coaches

Dapol conversion sides for the Hairdressing Saloon in progress

LMS 69' sleeper

Mostly sorted. Needs small changes to deal with the fact that Shapeways don't seem to be able to print one really straight. That means merging the roof with the body which also fixes the Shapeways pricing problem. Harder to paint, easier to build.

LNWR 50ft Coaches

Initial 3D printed shells done to make the kits easier to build. This now needs tweaks for Shapeways pricing but nothing major.

NLR "High Roof" Coaches

Prototypes received, production ones in Shapeways backlog

GWR 40ft Brake and Luggage Vans

Planned for 2015 release, but starting on design to verify the bogies.
9thSeptember 2014
We should shortly be starting to re-order components from the out of stock, and backorder lists. At that point the remaining outstanding partial orders from before will be dealt with.
Sorting through the piles of screen printed sides also unearthed a previously undiscovered block of old Cavendish sides so the LMS 57ft Third is no long discontinued but back in production.
25thAugust 2014
We are now back up and running. Initial order processing may be fairly slow as we iron out the kinks and remember where we everything went.
21stJuly 2014
Etched Pixels has arrived at its new address. Everything is currently packed in boxes but we hope to re-open late August.
18thMay 2014
Devon Belle

Off to Electra for the vinyls to be prepared. Pre-ordering is now closed.

GWR A42/C75

Production test build in progress, should be available soon unless this turns up something unexpected.

GWR Clerestory Coaches

Dean bogies have been modified somewhat for better strength and running. Still being tested.

LBSCR Arc Roof Bogie Coaches

First prototype under assembly.

SECR Continental Brakes

Still awaiting time to finish the final review and tweaking

4-COR 'Nelson EMU'

This will be a scratch aid kit. Sides, floors, trusses completed to match the Bulleid floor and the existing bulleid and 4COR ends. Having done a test build of one coach it's clear that etched window overlays are needed to capture the distinctive raised window frames.

Type 'K' Pullman

Starting initial design work

SECR/SR high ended open wagon (rounded ends)

No progress

Gresley coaches

No progress
30thApril 2014
Large batch of etches received. A fair amount is now back in stock that was missing and a few more will be once I've finished packing all the parts.
GWR A44 Autocoach

Released

Devon Belle

Corrected battery box detail received. Instructions and final checks to complete

GWR K38

Released

LSWR Ironclads

Released

LMS 69ft Sleepers

Reworking using 3D printed core. First test build completed but various adjustments and design tweaks needed.
15thApril 2014
Test build for the Ironclad now completed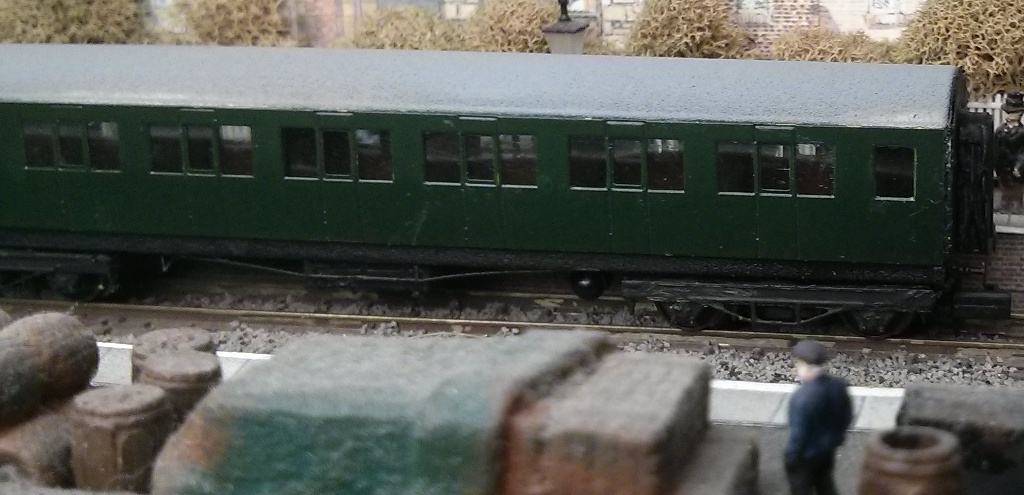 26thMarch 2014
GWR A44 Autocoach

Revised trussing received

Devon Belle

Revised trussing received, battery box detail still in progress

LNWR six wheelers

Third and lavatory third released

GWR K38

Trussing and test etched sides received

Updated GWR 'fishbelly' bogie using 13mm axles

Released
21stMarch 2014
Several things are currently waiting a bit of time for builds and instruction checking.
GWR A44 Autocoach

Minor corrections needed - revised trussing ordered

Devon Belle

First batch packed into boxes awaiting the arrival of the battery box overlays and trussing parts

GWR clerestory coaches

Initial 3D printed parts, ends and 10ft Dean Bogies assembled for checking. Test underframe detail to follow next. Picture below.

15thMarch 2014
Lots of new stock received. Once this is all checked in then a lot of the 'back order' tags will vanish. Shapeways now allow products to be ordered that they consider might not print, but at our risk not theirs. This has finally allowed the re-order of various items that we *know* print perfectly well but Shapeways randomly started refusing. In particular we are now able to obtain the Pullman lamps again, and surprise surprise they printed just fine.
Status update (note that some 'released' items haven't yet been counted and put into the stock database so won't show up as orderable for a day or two).
Caledonian Railway refrigerator van

Released

LBSCR Balloon coaches

Released

LSWR 'Ironclad'

All parts are now completed including interiors. The final missing production parts should arrive in the next three weeks.

GWR K38 'Ocean Mails'

Final production body parts received. Finishing work on etched side option and trussing

GWR A44 Autocoach

Final review and checking of parts

SECR 'continental' brakes

Final review and instructions

LNWR six wheelers

Detailing parts tested. Revised chassis and other components received. Second test build to be done.
25thFebruary 2014
Caledonian Railway refrigerator van

Completed - production order will be placed shortly

LMS (ex LNWR six wheel chassis)

Revised chassis build completed and now builds correctly

LMS (ex LNWR) six wheel coaches

Roof and underframe detailing completed. Test building the improved interior detail

BR(W) A44 flat ended 57ft autocoach

Revised trussing received

GWR clerestory coaches

First Dean bogie test prints being assembled and corrected

LBSCR 'Balloon' coaches

Test build completed, for once no corrections needed. Once the instructions are completed these kits will be made available, with LBSCR specific bogies to follow later

Devon Belle

3D printed shells and etched trussing received. Test vehicle shell assembled. One small trussing correction needed so moving on to the bodyside vinyls and detailing parts.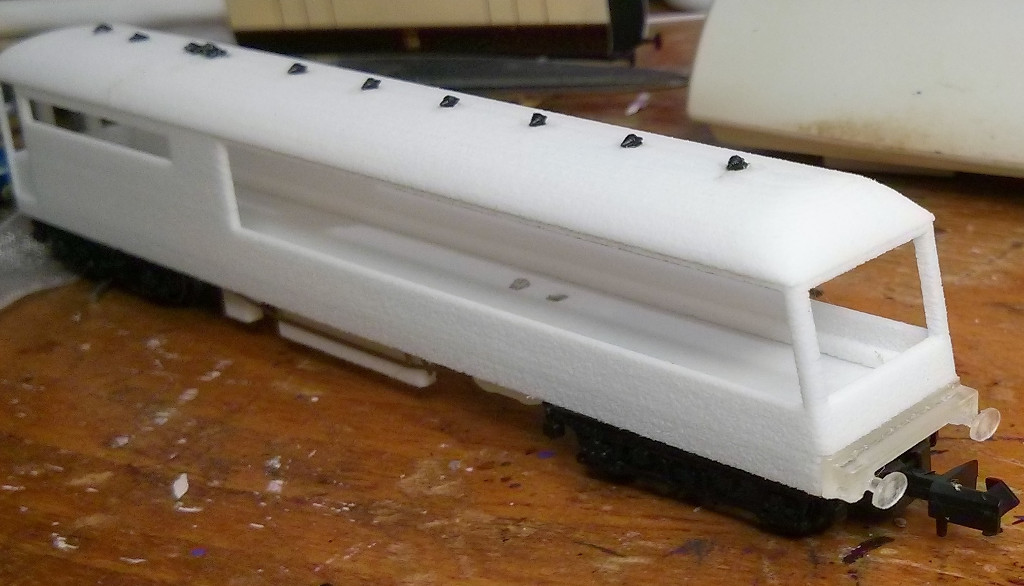 21stFebruary 2014
The GWR bullion van is now released along with the SECR first.
16thFebruary 2014
LBSCR Balloon test build.
8thFebruary 2014
Status update time for the 2014 products.
GWR Shunters Truck

Released

GWR M11 70ft Stowage Van

Released

SECR 'continental' brakes

Completing final test builds and instructions

Revised LMS 69ft sleeper

Test build in progress

Caledonian Railway refrigerator van

Waiting arrival of updated 3D print

WIA car carrier

All the bits are now available via Shapeways and wheels from Fox Valley. Investigating practicality of a 'full' kit

GWR bullion van

Suitable wheels finally obtained, bogies now in preparation

LMS (ex LNWR six wheel chassis)

Prototype assembled, corrections in progress

LMS (ex LNWR) six wheel coaches

Body shell and full third etches completed. Awaiting arrival of test detailing parts

GWR K38 57ft 'Ocean Mails' van

Body shell corrections complete. Etched sides still to prepare

BR(W) A44 flat ended 57ft autocoach

Bodyshells completed. Etched sides completed. Trussing and minor underframe detail to finish

GWR clerestory coaches

3D printed body shell now printing correctly. Etched ends, buffers and compartments prepared, underframe in progress. Dean bogies and body sides still in early preparation

SECR/SR high ended open wagon (rounded ends)

Not yet commenced

Gresley coaches

Investigating prototype
Commissions and spin-offs from commissions in progress currently.
SECR All First

Test build in progress

District Railway Electric Locomotive

Preparing instructions

LBSCR 'Balloon' coaches

Body shells, compartments and etched parts completed. Next stage is to produce appropriate bogies

LSWR 'Ironclad' coaches

Etched parts, 3D printed parts and coach shell completed for non brake vehicles. Roof detail and compartment fixes needed

Southern 'Devon Belle'

CAD completed, initial test printing in progress

LBSCR 'Arc Roof' coaches

Test body shells printed

LTSR bogie coaches

Test body shell CAD completed
Out of stock, but needing a rework before re-ordering
SECR third & brake composite

Artwork updates. Awaiting suitable space on new artwork

M79990

Awaiting changes due to discontinuing of Masterclass roof

LSWR bogie vans

Being reworked as full kits
When it's gone it's gone or already discontinued
ex PC Models 2mm shrinks

(Bain coaches etc in 2mm). Will not be re-ordered. Small numbers left only

Pullman table lamps

These have proved to unreliable in printing. We hope to re-introduce then as the technology improves

GWR 9ft axle box and leaf springs

Replaced with a new fully etched GWR 9ft bogie

Caledonian Railway bogie axlebox

Would need new casting moulds and not relevant to any product

LMS cast sleeper ends

Would need the re-tooling, instead will be replaced with a new shell using etched ends

LMS 57ft full third, printed sides

We have now sold out of these sides and it does not make commercial sense to re-produce them. We have good stocks of most other Cav'n'dish/Ultima LMS coach sides

GWR 57ft restaurant

We have now sold out of these sides and it does not make commercial sense to re-produce them. We have limited stocks of other old Ultima GWR printed coach sides

White metal oil lamp tops

Generic ones replaced with railway specific castings and 3D printed parts
18thJanuary 2014
The compartment divider piece for the Maunsell coaches and for the 'Continental' brakes is now completed. If you ordered one of the Maunsell kits previously and you'd like a compartment divider please drop an email to sales@etchedpixels.co.uk.
12thJanuary 2014
The order backlog is now cleared. There are just a couple of outstanding orders awaiting the arrival of backordered parts.
The first set of new orders for out of stock bits from over Christmas have been placed, and some of the new kits progressed. Providing things go to plan this should include the final etches for the Ironclad coaches (except brake ends), etches for LBSCR/SR 'Balloon' coaches, small 'Golden Arrow' arrows, ends for the WIA car carriers, an SECR first, and test sides for the LNWR six wheel third and the North Staffordshire 20ft Third. Various test parts are also on their way from Shapeways.
The 'Devon Belle' observation car commission is also making steady progress.
1stDecember 2013
More parts and test pieces have arrived. The GWR shunters truck has been test built and is now available. The GWR M11 test builds are done and it should be available as soon as the production body shells arrive. The revised WIA car carrier bogies have arrived and test out OK. The WIA now just needs the corrected end etch before release.
Next up on the workbench are the final LNER F4/F5 tests, after which the model should be available, and the buffers for the SECR continental coaches.
The Bullion van continues to make good progress. It needs scale width bogies which currently means using the 2mmSA bogies and their 12.25mm N gauge wheels - which have been discontinued and out of stock for some time. We have some 13mm axles on order to evaluate and if suitable plan to ship the kit with new bogies using this axle length.
9thNovember 2013
Some photographs of test builds. Firstly the new bogies (note that the coupling mounts haven't been folded into place and they are quick glue together builds. I've now fixed the wonky axle boxes on the test builds)


GWR Pressed Steel Bogie


GWR 9' Bogie


Fox pattern bogie


Early LSWR Bogie
The coaches currently being worked on. A44 autocoach, A42 trailer and LSWR "Ironclad" coaches.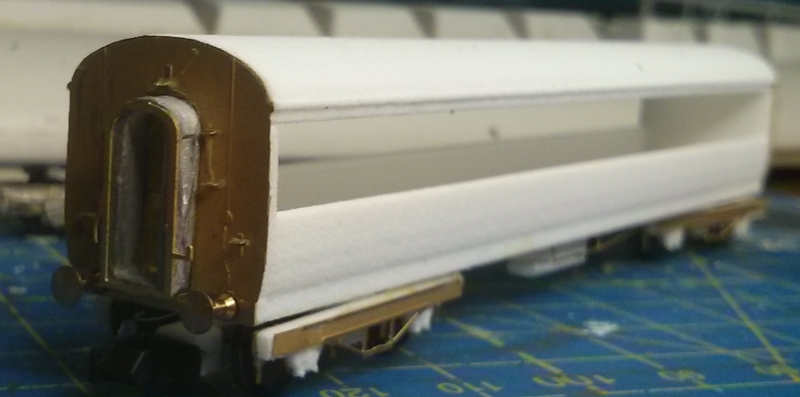 LNWR six wheel chassis.
7thNovember 2013
Lots of stuff back in stock including Maunsell coaches and Newton Chambers car carriers.
New items:
Gresley overlay side to help convert the Dapol Grelsey Buffet into British Rail blue livery form
Revised GWR 9ft bogie
GWR pressed steel 9ft bogie
8ft Fox pattern bogie. Based on an LSWR prototype but similar to Fox pattern bogies used by many companies
On sale to clear stock: all the remaining Bulleid conversions sides for the Farish Mark 1 coaches are now a pound a coach!
On the development side various things are still somewhat stalled and waiting new prototypes. The time however has not been wasted and the basic bodyshell and sides are now completed for the A44 autocoach and the A42 trailer. The commissioned Southern Railway ironclad shell is now mostly finished including Warner double framed 'dreadnaught' bogies. The first testers for early LSWR 8ft bogies and the LNWR 30'1 chassis have also been received and will need some small adjustments. The final bits for the GWR shunters truck have been done and hopefully the production ones will be in time for Christmas.
8thOctober 2013
Back-ordered GCR coaches will be going out in the post tomorrow.
We have also received the test prints for the WIA bogies and these need some minor adjustments and a problem with coupler mounting and clearance fixing.
7thOctober 2013
Time for a status update.
There has been a sudden rush on Maunsell coaches and they are now backordered. The relevant bits will be re-ordered shortly. The interior corridor partition process used for the Ultima Pro stock is also being tested on the Maunsells. If it works out then the interior sheet will be available to those who ordered Maunsell kits in the past as well as with new kits.
The LNER F4 is waiting some final small changes and etched steps. I am also looking at what is involved in making it available in brass using Shapeways new lost wax casting process. This may require some more additional work but would give an option for a much heavier and more robust model. The F4 may therefore slip a little while we experiment.
The SECR matchboard coach test builds are done. Some minor adjustments are being made to correct slight errors in the artwork. Some redesign work is needed on the buffer beams as they are too delicate and hard to assemble.
The GWR bullion van is on target and printed vinyl sides have been produced for the GWR era version. There are some small changes to the bogie height to be made but the next one should be the production version.
19thSeptember 2013
There will be a short delay on the final shipping of the Great Central non-corridor coaches due to a small error found in them at the last minute.
New items - GWR style door ventilators (UM337) and GWR 70ft tie rod (pair of tie rods). Generally you want two sets for a 70ft coach as they usually (always ?) had four tie rods.
14thSeptember 2013
More stuff back in stock. The Gresley sleeper first and third now available as are the remaining Great Central coaches. The suburban conversions are also back in production.
7thSeptember 2013
2014 New Products
As today seems to be the traditional new announcements day at The International N Gauge Show it seems a good day to confirm the 2014 items for Ultima/Etched Pixels.
GWR M11 70ft stowage van

3D printed bodyshell, pre-printed sides in early GWR livery, or etched sides for those painting in the later plainer liveries. In what we believe is a first for N gauge the later etches will capture the state of the panelling on these vehicles in post war days including missing/replaced panelling.

GWR K38 57ft 'Ocean Mails' van

3D printed body shell, pre-printed sides in early GWR livery with 'Ocean Mails' branding or etched sides for those painting later plainer liveries.

GWR Clerestory Stock

3D printed body shell, pre-printed sides in GWR liveries.

BR(W) A44 Flat ended 57ft autocoach

3D printed body shell, etched sides and ends.

GWR shunters truck (7ft wheelbase)

A quick and cheap shunters truck as a one piece 3D print to fit a slightly cut down Peco brake van chassis along with etched rails.

LMS (ex LNWR) six wheel chassis

An etched fold up and glue chassis to allow the LMS CCT to be built with the other common chassis that was used.

LMS (ex LNWR) six wheel coaches

3D printed shell to fit the LNWR chassis, etched sides. LNWR printed sides may be available depending upon how difficult they are to get to look right, and how the resulting kit looks.

Revised LMS 69ft sleeper

With improved profile and end detailing.

Caledonian Railway Refrigerated Van

One part 3D print for Peco chassis.

LNER Gresley era coaches

The exact models to be produced are still being finalised and the choice depends upon a possible commission still being discussed but it will probably be one of either the Silver Jubilee coaches or Tourist stock.

SECR/SR high ended open wagon (rounded ends)

3D print to drop onto a Peco chassis

WIA car carrier

3D printed WIA car carrier including bogies and correct small sized wheels
There are some other items planned subject to time and space for commissioned projects.
13thAugust 2013
The final parts for the corridor Great Central coaches are now done so these should be available from early next month.
11thAugust 2013
Still finalising elements of the Great Central/LNER corridor coaches. May slip to September, but better they are right than on time.
In the mean time a finished Gresley sleeper conversion.

7thAugust 2013
A couple of extra bits of CAD in progress at the moment. Firstly the post parcels reworking of the cream vans (different doors, no ice boxes), secondly the experimental LMS refrigerated milk van which is basically the same profie so trivial to generate. Given that body there is also the six wheel palethorpes body so I can use up the spare Palethorpes printed sides from hacking the Mill Lane Sidings kit into other things.
23rdJuly 2013
Several releases today including the Newton chambers car carrier, the first non-vestibule Great Central coaches, LMS sausage vans and the Gresley sleeper first conversion for Dapol coaches.
14thJuly 2013
The non-corridor first has been added to the range of forthcoming ex Great Central coaches. This allows a full London Suburban rake to be constructed.
13thJuly 2013
Some photo teasers for the upcoming models.
LMS 50ft Sausage Van (note that we don't currently plan to offer the Palethorpes livery sides but that is being investigated further)
Newton Chambers NVV/NVX Double Deck Car Carrier. The test build with paper rather than photo printed sides. Etched sides will be included with the kit and downloadable print your own photopaper sides made available.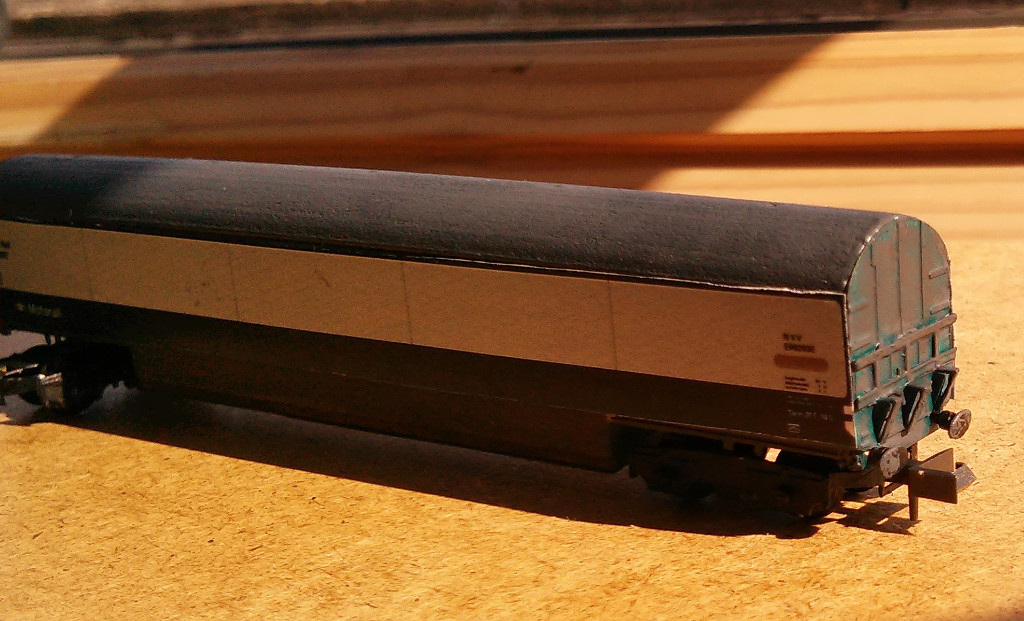 27thJune 2013
New etch delivery. Various test etches and some new items and stuff back to stock. The new production item is the Maunsell low window R4 third, done as a commission. Test etches also received for the LMS corridor bogie cream van, LMS Palethorpes van and corridor LMS palethorpes van. We also now have the first etches for the Gresley Sleeper 1st to fit the Dapol Gresley coaches and they seem to be right first time around. The WIA is now just short bogies (which are proving complicated), and the test NVV car carrier is completely built.
24thJune 2013
The 48DS shunters are now back in stock along with other 3D printed parts. New to stock are GWR milk churns (conical and straight sided), as well as locomotive toolboxes.
We have also received the remaining test parts for the Great Central corridor coaches as well as the buffers for the WIA car carrier currently in preparation and the first production standard tests for the LNER F4/F5.
Time for a mid year update: Target dates for release are
August

Great Central Railway non-corridor coaches. Maunsell low window R4 third.

September

Great Central Railway corridor coaches. LMS 50ft ex 'Palethorpes' corridor and non-corridor vans. LMS 50ft cream van.

October

LNER F4 locomotive body. Newton-Chambers NVV double deck car carrier.

November

ex SE&CR matchboarded 'continental' stock. ex Caledonian Railway refrigerated van.

December

LNER Sleeper replacement sides for Dapol Gresley coaches. GWR bullion van.
The Bulleid sides will be released as soon as possible after the Bachmann RTR Bulleid stock is available. These will provide a wide range of conversion opportunities. The tool can already produce almost the complete range of Bulleid coach sides, all that we are waiting for is the final exact measurements of the Bachmann release.
The GWR four wheel coaches will be deferred into 2014 as some elements needed are still being researched and this will also tie up better with other pending GWR and LNWR plans for 2014.
24thMay 2013
Latest updates on the LNER F4/F5 (GER M15) showing a Wordsell built locomotive in original as built form, and a reboilered locomotive with later chimney and other features.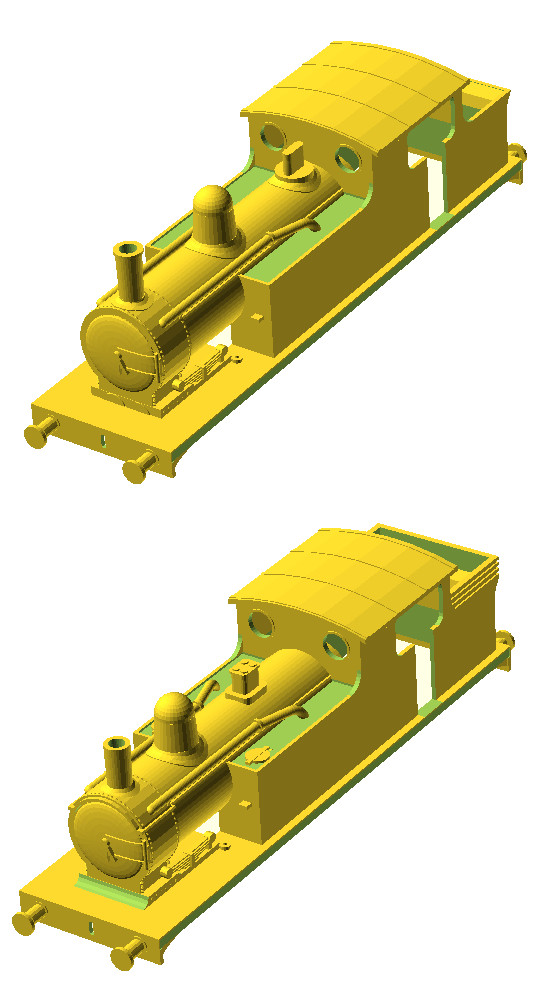 18thMay 2013
The test build of the non-corridor Great Central coaches is now completed and all appears to be in order. These should therefore be available in a few weeks time. The corridor ones need the compartment divider finishing.
17thMay 2013
With some help from Ben Ando we've been able to find someone to refurbish the roof tools and re-run them. The Hawksworth and Gresley roofs are looking good. The Bulleid roof isn't entirely perfect but gives a moulding that needs a small spot of filler in one location.
The affected kits are now available again, with the small caveat about the roof moulding and filler.
16thMay 2013
The O.13 Milk Brake has now been released. If you have paid the deposit and the remainder of the money owed your kit or kits should be in the post or with you.
The BUT/ACV railbus set is now released as are the WCPR railmotors and the KESR Pickering steam railmotor body. These can be ordered directly as a special order or purchased directly from our Shapeways page, as can the 57ft and 60ft Bow Ended shell scratch aids.
17thApril 2013
The Midland/SDJR six wheelers are now available. Scalloped dome vents are also finally back in stock.
14thApril 2013
The order backlog is now cleared again. Various items including the L.22 TPO are now back in stock. Some of the LNER suburbans are now out of stock but will be re-ordered shortly. The Wickham railbusses with interior are now available.
A new batch of white metal parts awaits unpacking. Once unpacked that should fix some of the other out of stock items.
5thApril 2013
It's that week again and the end of the tax year. Orders may be delayed a few days from the 6th onwards while we complete the end of year stock taking and work out if the nice man at the revenue wants paying.
On other fronts, the Royal Mail have put up prices on everything they can that they didn't promise not to raise again. Hopefully our postage prices will not have to rise again but they may need to for some items. Strangely it seems it would now actually be cheaper to post some of our products from abroad to UK addresses than from the UK to the UK.
The O.13 Milk Brake second test shell is on order with various dimensional glitches addressed and some strengthening done.
Revised bodyshells for the Midland Railway six wheel coaches are on order as well as initial test shells for LNWR six wheel stock.
The railbusses are progressing. Once I have the revised etches the other Wickham railbusses with go on sale. In the mean time a few other slightly less planned 3D print projects are in the pipeline.
WIA articulated car carrier
57ft and 60ft scratch aid body shells for GWR bow ended vehicles designed so you can just clip in bogies and buffers to get a rolling shell ready to add sides and detailing. Some experimentation is also under way into producing good quality pre-printed GWR sides for these.
BUT/ACV British Railways railcar set
Southern Railway/Weston Clevedon and Portishead Drewry Railcar Number 5
Weston Clevedon and Portishead Railcar Number 1 ('Flying Matchbox') and trailer
Colonel Stephens K&ESR Pickering Steam Railcar
Plus a few other railbusses on the TODO list. As some of these will be fairly obscure items the current plan is to make them available via our Shapeways shop only. This allows us to avoid carrying stock which in turn means yet more crazy and obscure items can be done.
25thMarch 2013
The next set of 3D printed parts has arrived. The Midland coaches will be slightly delayed as it seems some minor tweaking is needed still to get the bits to print reliably as I want them.
The roofs are now dome for UM1321/1322 and these kits are now available again.
11thMarch 2013
The milk van has reached the required number of orders. The initial test etch artwork is prepared and the 3D printed shell tester ready to get printed. Hopefully a test assembly will be possible in about four weeks, then any refinements made.
Midland oil and gas lamps are now in stock. This covers all the varieties up to 1899 except the very tiny lamp tops which are too small to print and best representd other ways. The Midland six wheel coaches are making progress, the etched parts are complete and the 3D printed parts are getting some small corrections made.
Also new are NEM bar couplers for fixed rakes. These are particularly designed for the Dapol Mark 3 coaches. Other lengths can be produced if needed, please contact us for information.
The test SR roof for UM1321/1322 has arrived and is correct. Production roofs should arrive in a month or so.
Also in the delivery today are the production bodies for the Wickham railbusses. The extra etched parts for the railbusses are still pending, but the 'Elliot' railbus which does not include chassis parts is now available to order.
Finally some test shells for the LMS bogie sausage vans (corridor and non corridor) as well as the cream van, and for GWR bow ended stock. These are part of a somewhat longer plan to make it possible to create pretty much any GWR bow ended stock.
4thMarch 2013
Turned brass airhorns as used on our inspection saloon are now available as a part on their own.
We have been asked to produce the GWR O.13 milk brake in N gauge. Initial investigation confirms this can be done as a 3D printed shell with glue on etched sides/ends/doors and detail parts. In order to go ahead we need a minimum of ten orders. Reservations can be made here.
27thFebruary 2013
Mark 1 63'6 suburban coaches released.
22ndFebruary 2013
Would the gentleman with the initials CJM who sent a cheque order in the past few days please contact us as there was no address included with his order. Thank you.
20thFebruary 2013
All the etched parts we carry from stock should now be back in stock. There have been some significant price rises in the price of metal since the last bulk orders of some parts and we have been advised by one of our suppliers that prices will rise a further 5% again next month. This will inevitably lead to some price rises particularly in products that contain a large volume of metal. The cost to us for some etched parts have now tripled since 2008.
11thFebruary 2013
First shots of the test build and brush painted Wickham railbus. The etches for the chassis/buffer beam are still in preparation.
7thFebruary 2013
The first batch of new etches has arrived. Various things are now back in stock. All back orders are now cleared except for one person waiting a specific vehicle.
Product changes: the X-Fish is now etches that glue to a 3D printed shell rather than a conversion of the Palethorpes van. For those who built the early kit conversion and have some Palethorpes decals sitting around we've also test printed a Palethorpes body to use them ! Drop us an email if interested.
19thJanuary 2013
Restocking is still very delayed due to family illness. However I have managed to grab some time and attend to much of the re-ordering this weekend. Yellow vinyls are still held up.
4thJanuary 2013
Happy new year.
Due to family illness order fulfillment will be slow, and a lot of re-stocking will be very delayed. Christmas orders are mostly now cleared except for some back-ordered items and some problems with vinyls.
Etched Pixels Digital Design, LLwyncelyn, 5 Richmond Villas, FFynone Road, Swansea, SA1 6DQ