1stDecember 2013
More parts and test pieces have arrived. The GWR shunters truck has been test built and is now available. The GWR M11 test builds are done and it should be available as soon as the production body shells arrive. The revised WIA car carrier bogies have arrived and test out OK. The WIA now just needs the corrected end etch before release.
Next up on the workbench are the final LNER F4/F5 tests, after which the model should be available, and the buffers for the SECR continental coaches.
The Bullion van continues to make good progress. It needs scale width bogies which currently means using the 2mmSA bogies and their 12.25mm N gauge wheels - which have been discontinued and out of stock for some time. We have some 13mm axles on order to evaluate and if suitable plan to ship the kit with new bogies using this axle length.
9thNovember 2013
Some photographs of test builds. Firstly the new bogies (note that the coupling mounts haven't been folded into place and they are quick glue together builds. I've now fixed the wonky axle boxes on the test builds)


GWR Pressed Steel Bogie


GWR 9' Bogie


Fox pattern bogie


Early LSWR Bogie
The coaches currently being worked on. A44 autocoach, A42 trailer and LSWR "Ironclad" coaches.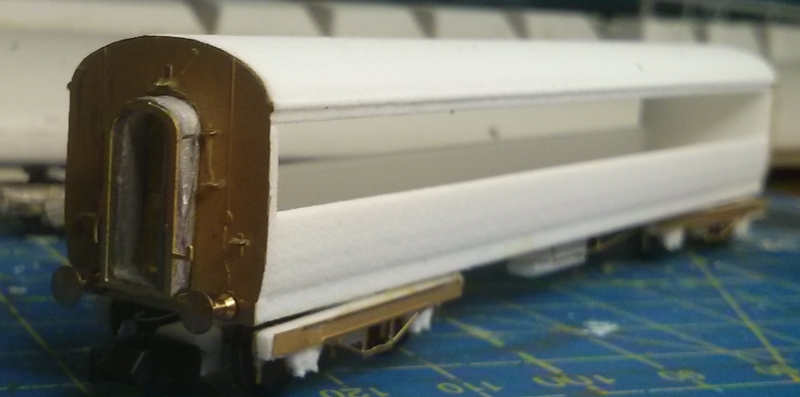 LNWR six wheel chassis.
7thNovember 2013
Lots of stuff back in stock including Maunsell coaches and Newton Chambers car carriers.
New items:
Gresley overlay side to help convert the Dapol Grelsey Buffet into British Rail blue livery form
Revised GWR 9ft bogie
GWR pressed steel 9ft bogie
8ft Fox pattern bogie. Based on an LSWR prototype but similar to Fox pattern bogies used by many companies
On sale to clear stock: all the remaining Bulleid conversions sides for the Farish Mark 1 coaches are now a pound a coach!
On the development side various things are still somewhat stalled and waiting new prototypes. The time however has not been wasted and the basic bodyshell and sides are now completed for the A44 autocoach and the A42 trailer. The commissioned Southern Railway ironclad shell is now mostly finished including Warner double framed 'dreadnaught' bogies. The first testers for early LSWR 8ft bogies and the LNWR 30'1 chassis have also been received and will need some small adjustments. The final bits for the GWR shunters truck have been done and hopefully the production ones will be in time for Christmas.
8thOctober 2013
Back-ordered GCR coaches will be going out in the post tomorrow.
We have also received the test prints for the WIA bogies and these need some minor adjustments and a problem with coupler mounting and clearance fixing.
7thOctober 2013
Time for a status update.
There has been a sudden rush on Maunsell coaches and they are now backordered. The relevant bits will be re-ordered shortly. The interior corridor partition process used for the Ultima Pro stock is also being tested on the Maunsells. If it works out then the interior sheet will be available to those who ordered Maunsell kits in the past as well as with new kits.
The LNER F4 is waiting some final small changes and etched steps. I am also looking at what is involved in making it available in brass using Shapeways new lost wax casting process. This may require some more additional work but would give an option for a much heavier and more robust model. The F4 may therefore slip a little while we experiment.
The SECR matchboard coach test builds are done. Some minor adjustments are being made to correct slight errors in the artwork. Some redesign work is needed on the buffer beams as they are too delicate and hard to assemble.
The GWR bullion van is on target and printed vinyl sides have been produced for the GWR era version. There are some small changes to the bogie height to be made but the next one should be the production version.
19thSeptember 2013
There will be a short delay on the final shipping of the Great Central non-corridor coaches due to a small error found in them at the last minute.
New items - GWR style door ventilators (UM337) and GWR 70ft tie rod (pair of tie rods). Generally you want two sets for a 70ft coach as they usually (always ?) had four tie rods.
14thSeptember 2013
More stuff back in stock. The Gresley sleeper first and third now available as are the remaining Great Central coaches. The suburban conversions are also back in production.
7thSeptember 2013
2014 New Products
As today seems to be the traditional new announcements day at The International N Gauge Show it seems a good day to confirm the 2014 items for Ultima/Etched Pixels.
GWR M11 70ft stowage van

3D printed bodyshell, pre-printed sides in early GWR livery, or etched sides for those painting in the later plainer liveries. In what we believe is a first for N gauge the later etches will capture the state of the panelling on these vehicles in post war days including missing/replaced panelling.

GWR K38 57ft 'Ocean Mails' van

3D printed body shell, pre-printed sides in early GWR livery with 'Ocean Mails' branding or etched sides for those painting later plainer liveries.

GWR Clerestory Stock

3D printed body shell, pre-printed sides in GWR liveries.

BR(W) A44 Flat ended 57ft autocoach

3D printed body shell, etched sides and ends.

GWR shunters truck (7ft wheelbase)

A quick and cheap shunters truck as a one piece 3D print to fit a slightly cut down Peco brake van chassis along with etched rails.

LMS (ex LNWR) six wheel chassis

An etched fold up and glue chassis to allow the LMS CCT to be built with the other common chassis that was used.

LMS (ex LNWR) six wheel coaches

3D printed shell to fit the LNWR chassis, etched sides. LNWR printed sides may be available depending upon how difficult they are to get to look right, and how the resulting kit looks.

Revised LMS 69ft sleeper

With improved profile and end detailing.

Caledonian Railway Refrigerated Van

One part 3D print for Peco chassis.

LNER Gresley era coaches

The exact models to be produced are still being finalised and the choice depends upon a possible commission still being discussed but it will probably be one of either the Silver Jubilee coaches or Tourist stock.

SECR/SR high ended open wagon (rounded ends)

3D print to drop onto a Peco chassis

WIA car carrier

3D printed WIA car carrier including bogies and correct small sized wheels
There are some other items planned subject to time and space for commissioned projects.
13thAugust 2013
The final parts for the corridor Great Central coaches are now done so these should be available from early next month.
11thAugust 2013
Still finalising elements of the Great Central/LNER corridor coaches. May slip to September, but better they are right than on time.
In the mean time a finished Gresley sleeper conversion.

7thAugust 2013
A couple of extra bits of CAD in progress at the moment. Firstly the post parcels reworking of the cream vans (different doors, no ice boxes), secondly the experimental LMS refrigerated milk van which is basically the same profie so trivial to generate. Given that body there is also the six wheel palethorpes body so I can use up the spare Palethorpes printed sides from hacking the Mill Lane Sidings kit into other things.
23rdJuly 2013
Several releases today including the Newton chambers car carrier, the first non-vestibule Great Central coaches, LMS sausage vans and the Gresley sleeper first conversion for Dapol coaches.
14thJuly 2013
The non-corridor first has been added to the range of forthcoming ex Great Central coaches. This allows a full London Suburban rake to be constructed.
13thJuly 2013
Some photo teasers for the upcoming models.
LMS 50ft Sausage Van (note that we don't currently plan to offer the Palethorpes livery sides but that is being investigated further)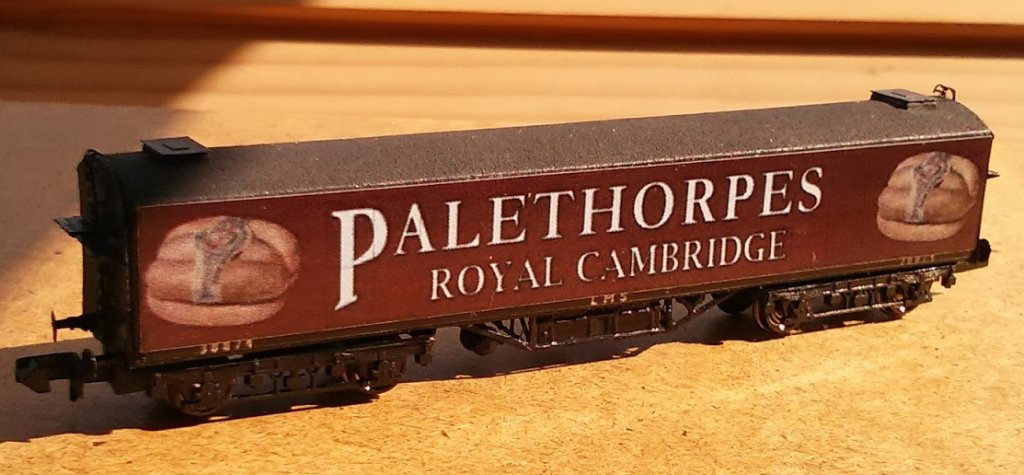 Newton Chambers NVV/NVX Double Deck Car Carrier. The test build with paper rather than photo printed sides. Etched sides will be included with the kit and downloadable print your own photopaper sides made available.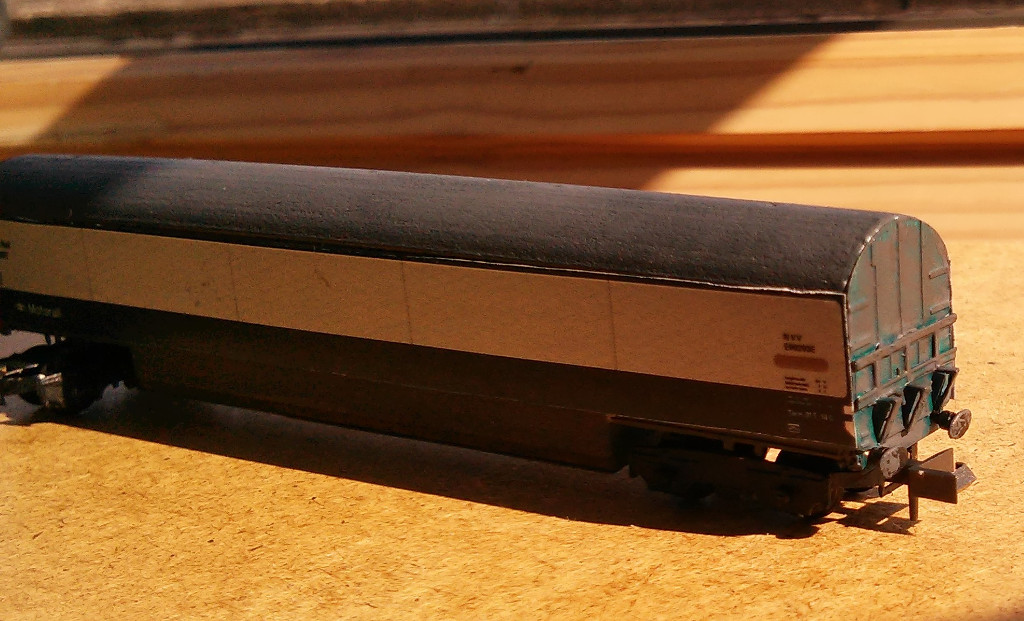 27thJune 2013
New etch delivery. Various test etches and some new items and stuff back to stock. The new production item is the Maunsell low window R4 third, done as a commission. Test etches also received for the LMS corridor bogie cream van, LMS Palethorpes van and corridor LMS palethorpes van. We also now have the first etches for the Gresley Sleeper 1st to fit the Dapol Gresley coaches and they seem to be right first time around. The WIA is now just short bogies (which are proving complicated), and the test NVV car carrier is completely built.
24thJune 2013
The 48DS shunters are now back in stock along with other 3D printed parts. New to stock are GWR milk churns (conical and straight sided), as well as locomotive toolboxes.
We have also received the remaining test parts for the Great Central corridor coaches as well as the buffers for the WIA car carrier currently in preparation and the first production standard tests for the LNER F4/F5.
Time for a mid year update: Target dates for release are
August

Great Central Railway non-corridor coaches. Maunsell low window R4 third.

September

Great Central Railway corridor coaches. LMS 50ft ex 'Palethorpes' corridor and non-corridor vans. LMS 50ft cream van.

October

LNER F4 locomotive body. Newton-Chambers NVV double deck car carrier.

November

ex SE&CR matchboarded 'continental' stock. ex Caledonian Railway refrigerated van.

December

LNER Sleeper replacement sides for Dapol Gresley coaches. GWR bullion van.
The Bulleid sides will be released as soon as possible after the Bachmann RTR Bulleid stock is available. These will provide a wide range of conversion opportunities. The tool can already produce almost the complete range of Bulleid coach sides, all that we are waiting for is the final exact measurements of the Bachmann release.
The GWR four wheel coaches will be deferred into 2014 as some elements needed are still being researched and this will also tie up better with other pending GWR and LNWR plans for 2014.
24thMay 2013
Latest updates on the LNER F4/F5 (GER M15) showing a Wordsell built locomotive in original as built form, and a reboilered locomotive with later chimney and other features.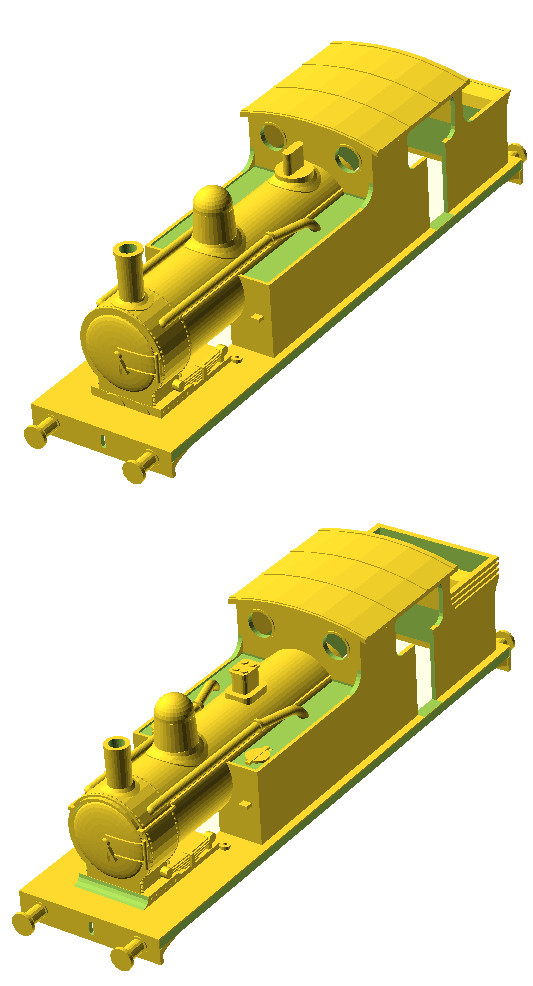 18thMay 2013
The test build of the non-corridor Great Central coaches is now completed and all appears to be in order. These should therefore be available in a few weeks time. The corridor ones need the compartment divider finishing.
17thMay 2013
With some help from Ben Ando we've been able to find someone to refurbish the roof tools and re-run them. The Hawksworth and Gresley roofs are looking good. The Bulleid roof isn't entirely perfect but gives a moulding that needs a small spot of filler in one location.
The affected kits are now available again, with the small caveat about the roof moulding and filler.
16thMay 2013
The O.13 Milk Brake has now been released. If you have paid the deposit and the remainder of the money owed your kit or kits should be in the post or with you.
The BUT/ACV railbus set is now released as are the WCPR railmotors and the KESR Pickering steam railmotor body. These can be ordered directly as a special order or purchased directly from our Shapeways page, as can the 57ft and 60ft Bow Ended shell scratch aids.
17thApril 2013
The Midland/SDJR six wheelers are now available. Scalloped dome vents are also finally back in stock.
14thApril 2013
The order backlog is now cleared again. Various items including the L.22 TPO are now back in stock. Some of the LNER suburbans are now out of stock but will be re-ordered shortly. The Wickham railbusses with interior are now available.
A new batch of white metal parts awaits unpacking. Once unpacked that should fix some of the other out of stock items.
5thApril 2013
It's that week again and the end of the tax year. Orders may be delayed a few days from the 6th onwards while we complete the end of year stock taking and work out if the nice man at the revenue wants paying.
On other fronts, the Royal Mail have put up prices on everything they can that they didn't promise not to raise again. Hopefully our postage prices will not have to rise again but they may need to for some items. Strangely it seems it would now actually be cheaper to post some of our products from abroad to UK addresses than from the UK to the UK.
The O.13 Milk Brake second test shell is on order with various dimensional glitches addressed and some strengthening done.
Revised bodyshells for the Midland Railway six wheel coaches are on order as well as initial test shells for LNWR six wheel stock.
The railbusses are progressing. Once I have the revised etches the other Wickham railbusses with go on sale. In the mean time a few other slightly less planned 3D print projects are in the pipeline.
WIA articulated car carrier
57ft and 60ft scratch aid body shells for GWR bow ended vehicles designed so you can just clip in bogies and buffers to get a rolling shell ready to add sides and detailing. Some experimentation is also under way into producing good quality pre-printed GWR sides for these.
BUT/ACV British Railways railcar set
Southern Railway/Weston Clevedon and Portishead Drewry Railcar Number 5
Weston Clevedon and Portishead Railcar Number 1 ('Flying Matchbox') and trailer
Colonel Stephens K&ESR Pickering Steam Railcar
Plus a few other railbusses on the TODO list. As some of these will be fairly obscure items the current plan is to make them available via our Shapeways shop only. This allows us to avoid carrying stock which in turn means yet more crazy and obscure items can be done.
25thMarch 2013
The next set of 3D printed parts has arrived. The Midland coaches will be slightly delayed as it seems some minor tweaking is needed still to get the bits to print reliably as I want them.
The roofs are now dome for UM1321/1322 and these kits are now available again.
11thMarch 2013
The milk van has reached the required number of orders. The initial test etch artwork is prepared and the 3D printed shell tester ready to get printed. Hopefully a test assembly will be possible in about four weeks, then any refinements made.
Midland oil and gas lamps are now in stock. This covers all the varieties up to 1899 except the very tiny lamp tops which are too small to print and best representd other ways. The Midland six wheel coaches are making progress, the etched parts are complete and the 3D printed parts are getting some small corrections made.
Also new are NEM bar couplers for fixed rakes. These are particularly designed for the Dapol Mark 3 coaches. Other lengths can be produced if needed, please contact us for information.
The test SR roof for UM1321/1322 has arrived and is correct. Production roofs should arrive in a month or so.
Also in the delivery today are the production bodies for the Wickham railbusses. The extra etched parts for the railbusses are still pending, but the 'Elliot' railbus which does not include chassis parts is now available to order.
Finally some test shells for the LMS bogie sausage vans (corridor and non corridor) as well as the cream van, and for GWR bow ended stock. These are part of a somewhat longer plan to make it possible to create pretty much any GWR bow ended stock.
4thMarch 2013
Turned brass airhorns as used on our inspection saloon are now available as a part on their own.
We have been asked to produce the GWR O.13 milk brake in N gauge. Initial investigation confirms this can be done as a 3D printed shell with glue on etched sides/ends/doors and detail parts. In order to go ahead we need a minimum of ten orders. Reservations can be made here.
27thFebruary 2013
Mark 1 63'6 suburban coaches released.
22ndFebruary 2013
Would the gentleman with the initials CJM who sent a cheque order in the past few days please contact us as there was no address included with his order. Thank you.
20thFebruary 2013
All the etched parts we carry from stock should now be back in stock. There have been some significant price rises in the price of metal since the last bulk orders of some parts and we have been advised by one of our suppliers that prices will rise a further 5% again next month. This will inevitably lead to some price rises particularly in products that contain a large volume of metal. The cost to us for some etched parts have now tripled since 2008.
11thFebruary 2013
First shots of the test build and brush painted Wickham railbus. The etches for the chassis/buffer beam are still in preparation.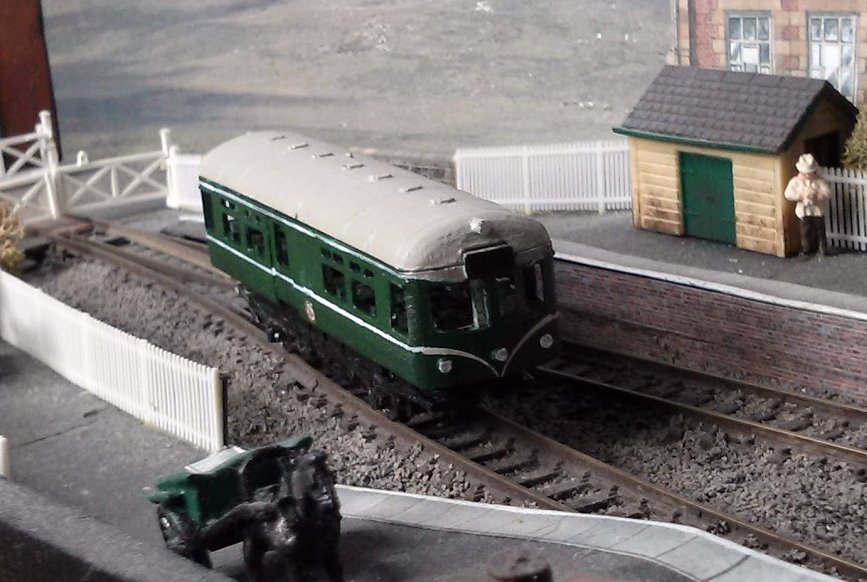 7thFebruary 2013
The first batch of new etches has arrived. Various things are now back in stock. All back orders are now cleared except for one person waiting a specific vehicle.
Product changes: the X-Fish is now etches that glue to a 3D printed shell rather than a conversion of the Palethorpes van. For those who built the early kit conversion and have some Palethorpes decals sitting around we've also test printed a Palethorpes body to use them ! Drop us an email if interested.
19thJanuary 2013
Restocking is still very delayed due to family illness. However I have managed to grab some time and attend to much of the re-ordering this weekend. Yellow vinyls are still held up.
4thJanuary 2013
Happy new year.
Due to family illness order fulfillment will be slow, and a lot of re-stocking will be very delayed. Christmas orders are mostly now cleared except for some back-ordered items and some problems with vinyls.
28thNovember 2012
TPO orders are all despatched.
The first of our production updates to 3D printed roofs is now done. The Hawksworth Saloon is back in production and now features a polished 3D printed roof with the pre-marked holes for ventilators and other detail.
Now Available
North London Railway coaches
Furness Railway NLR four wheel coach
6336 Isle of Wight ex NLR four wheel coach
E96202E CCT and stores van
Awaiting Packing
Printed body X-Fish kit
GCR 10'6 bogie kit
Thompson six compartment brake composite
North London Railway Brake
On the workbench
GCR non corridor third and composite test builds
Mark 1 non corridor 63' stock. Working on underframe final bits
Hawksworth saloon 3D printed roof
21stNovember 2012
Things are moving a bit more slowly due to an illness in the family. All the orders are now done except for TPO orders waiting parts.
Some quick updates on the status of things however. The GCR coaches now await their interior and the test ones are painted up. The test 96202 build is done and just needs the handrails adding. The test F5 is painted and getting detailed.

Will the person who emailed about bent etches please return them and I'll get them replaced (I don't seem to be able to reply to your email).
6thNovember 2012
Next batch of 3D printed item received. LMS CCT now in good stock along with Gresley and Thompson suburban coaches.
Sitting on the workbench waiting instructions:
LNER F4/F5
North London Railway: first, second and early brake to fit Peco chassis
Furness Railway: higher roof ex NLR four wheeler to fit Peco chassis
6336 Isle of Wight ex NLR four wheeler for Peco chassis
E96202E in both CCT car carrier form and as a stores van
Going into production
BR 63' suburban with printed sides
X-Fish van printed body
Thompson and Bulleid roof profiles
Great Central 10'6 bogies
North London Railway coaches and variants
In preparation
BR suburban etched sides
Hawksworth saloon replacement roof
Thompson suburban brake composite
Some custom etched windows
3rdNovember 2012
All the Hawksworth coaches have now shipped. As there are no more roofs and the tooling isn't worth refurbishing the Hawksworth coaches are likely to remain unavailable until I can work on a 3D printed roof, probably late next year at the earliest.
Also taking a final (for the moment) bow are the Ultima LMS sleeper coaches as the ends need redoing in order to produce more. They can still be provided with standard ends (slightly different steps) if desired.
The Great Central coaches continue to make progress. The test builds have been built up almost fully. Interiors and some underframe components are now in design.
The first prototype of the BR long suburban shell has been recieved and tested along with some of the other needed parts. A hopefully final version of the 3D print components will arrive later this month. The vehicles will be available in BR crimson and maroon liveries. Etched sides will also follow for those who want to paint them in other liveries. I have had some enquiries about the 57' suburbans in BR blue. The tooling can produce both 63' and 57' suburban shells including 'metrogauge' roofs. If you are inerested in set of etched side/printed shell 57' metrogauge suburbans please contact us.
The test build for the ex-Gresley 'Anglo Scottish' car carriers is now assembled. Production versions of these vehicles also including E96202E in its departmental stores van guise should follow early next year.
Currently on the workbench are the first prints of the North London Railway coaches, some more NEM coupler pocket types, NEM coupling bars and the LMS X-Fish revised shell.
18thOctober 2012
Remaining LSWR block coaches now released. LMS 6 wheel CCT back in stock, 48DS in stock.
13thOctober 2012
LMS 6 wheel CCT with etched overlays on a printed bodyshell now available. This easy to build kit fits the N Gauge Society Stove-R chassis.

Further CAD updates to the four wheel coach front. In this case adding the detail for the later reworkings. In this case Isle of Wight railway coach 6336, an ex North London Railway vehicle.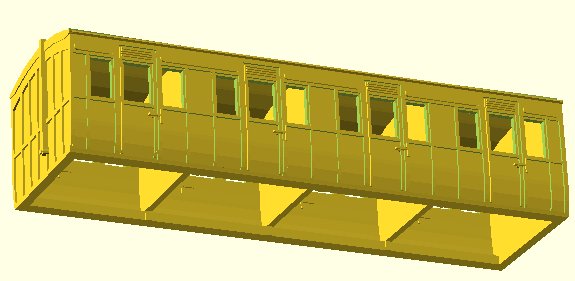 13thOctober 2012
Order delays: Waiting more trusses to ship orders including Hawksworth coaches. Waiting more LMS sleeper etched sides.
Initial CAD for North London Railway coaches of the 1860s. First, second and brake to drop directly onto Peco chassis.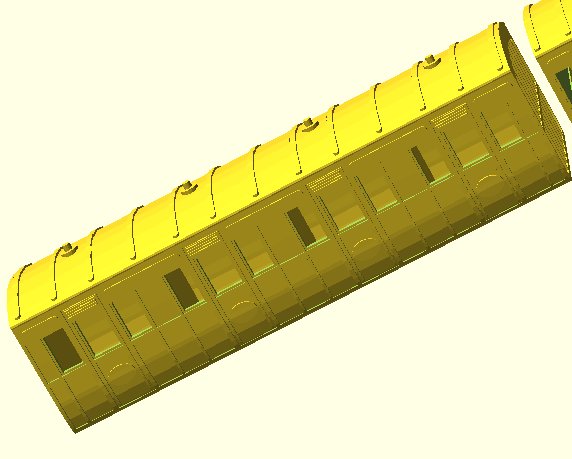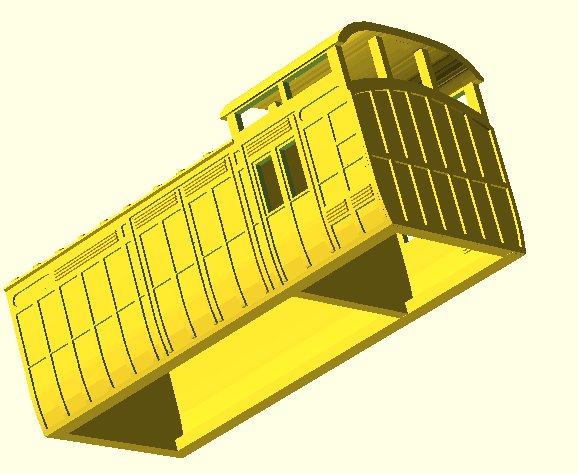 6thOctober 2012
Test builds for the remaining LSWR block coaches completed successfully. These will be available in a few weeks time (certainly in time for Christmas). This completes the intended 2012 project plan. The LMS CCT will also be available in about two weeks time.
We have been commissioned to produce a 63' BR suburban printed shell and ends, to go with the underframe kit and to match the ex Beaver suburban sides. This will be available before Christmas with luck.
The main plans for 2013 can now be confirmed
The first Etched Pixels steam locomotive kit - a 3D printed LNER F4 in early configuration (number 34 boiler, original arc roof, stove pipe chimney, Ramsbottom safety valves) as a conversion/scratch aid for the Dapol 14xx chassis.
Great Central Railway matchboarded stock. Or initial plans are to produce the vestibule brake composite, and full third as well as a few other vehicles yet to be selected but to include non-corridor stock. Bogies will also be available separately. Possibly also GCR 8ft bogies
Midland & GWR coaches to fit the N Gauge Society Stove-R chassis
ex LNER car carrier rebuilds
SE&CR / Southern Railway matchboarded boat train coaches to the correct narrow profile with 3D printed roof. (I'd love to do 'Caroline' the same way if anyone happens to know where I can get good images/drawings).
Re-introduction of Thompson 63' and 59' vestibule coaches with a printed polished roof and capable of taking Dapol bogies
Re-introduction of the Southern railway TPO and stowage van with printed polished roof
The first of a range of 3D printed shells for other vendors etched sides/ends
In addition we will be discontinuing of the Hawksworth coaches (last few roofs left and not commercially viable to re-tool at the moment). The exception will be the Hawksworth inspection saloon which will continue to be available with a revised printed roof profile.
24thSeptember 2012
Most backlogged orders have now gone out. Still waiting some delayed parts for a few orders.
Shapeways parts have arrived and been delivered this time. The replacement roof profile tests for the Thompson corridor coaches and the Bulleid type roof are pretty close. Some minor revisions needed to the rainstrips.
The test bar couplers seem to be working. These are now being tested in an actual train for a bit to see how well they hold up and if there are unexpected problems.
The 48DS will be released shortly. It'll need some hand work as Shapeways can't quite print it with the space needed so you have to file/scrape a couple of bits slightly to fit the chassis. No big deal and it makes a good tight fit.
The latest version of the Great Central bogies run acceptably without needing fiddly brass bearings, and hopefully those will be released in a few weeks with the coaches following later.
The LNER F5 continues to throw up some problems with clearances. That will probably mean that the only way to get the motor in is to tape over the top of the can motor and glue the coal to that, especially on the pre-group version without coal rails. With coal rails it's a shade easier. Target for release is Christmas/New Year with the initial release being on early form with Ramsbottom valves, low cab roof, GER buffers and no coal rail. It will probably be sold as a scratch aid as currently the constructor will need to rewire a Dapol 14xx chassis and source other parts.
21stSeptember 2012
The next batch of Shapeways 3D printed shells arrived, unfortunately the UPS ninja managed to sneak up to the door, post his card and get away again so hopefully they'll be in stock Monday. To be fair to UPS we have since discovered the doorbell had broken.
More bearings have now been received so several orders waiting bearings will go out this weekend. The next batch of etches should be here shortly.
As we now have various pre-orders by email for the Gresley suburbans and a growing queue I've updated the catalogue to suggest people email to join the waiting list. It seems only fair that everyone is given the same chance. We will be shipping them out in strict order but hopefully it'll get a bit more under control now there is a better idea of demand.
Other question that has come up: yes we can produce the full brake with Gresley bogies. It's strictly wrong to my knowledge but it's not a problem to make.
13thSeptember 2012
Class 03 funnels now in the catalogue.
27thAugust 2012
Currently in preparation
LSWR 32' block brake third
26thAugust 2012
Currently in preparation
LSWR 31' block second/composite
LMS six Wheel CCT
Revised X-Fish van with 3D printed shell
Thompson non-vestibule six compartment brake composite
Thompson non-vestibule semi-corridor lavatory composite
Thompson non-vestibule lavatory composite
25thAugust 2012
Shapeways are currently running about a week behind their schedules so the next test stuff and some orders for NEM mounts are somewhat delayed.
The narrow gauge chassis are now back in the catalogue.
1stAugust 2012
The next 3D print tests have arrived along with the first production pieces. Once the instructions are tidied up the initial Gresley and Thompson suburban coach kits will be available. The Gresley lavatory composite will take a bit longer as some further work is needed in the corridor wall as it couldn't be 3D printed.
Also on the checking table are Coligny and Pope's gas lamps as used by the L&Y and some others and correct UK 750mm standard traffic cones. These will be available shortly.
I now have the initial development testers for a 48DS 3D print, an LNER F5 and Great Central corridor bogie stock. All of these will require some further adjustment. The F5 is a bit fiddly involving butchering a 14xx Dapol chassis so unless I can simplify it may remain a one off.
15thJuly 2012
The new catalogue has now been deployed. I'm still fixing various things and working on some of the problems such as the difficulty in accessing the basket from arbitary pages.
29thJune 2012
Released: Catenary rises for Dapol catenary.
Doing further minor fixup work on the Gresley and Thompson suburbans. Still aiming for the end of July for full released.
24thJune 2012
Released:
L.21 TPO
L.22 TPO
Class 44 and 45/46 roof grilles
LSWR Block Set 34ft Third
4thJune 2012
Currently in preparation:
LSWR Block Set 34ft Third
Class 44 and 45/46 Roof Grilles
Thompson Non-Corridor Full Kits
The Gresley non-corridor coaches are now sorted and the various minor glitches fixed. These will be full kits that build around a 3D printed shell including interior combined with etched side/end overlays, and trussing. The roof is pre-holed to make the ventilator fitting easy.
Vehicles taking 8'6 Gresley bogies have mounts that allow you to just clip Dapol bogies in place along with NEM convertors for use with short couplings. The floors are correctly slotted for the Dapol pickups and the roof space contains room for lighting units.
The initial releases will concentrate on the truss rod fitted stock with full length footboards as these cover the widest period. The following diagrams will be available:
51ft First (diagram 48)
51ft Semi-Corridor Lavatory Composite (diagram 49)
51ft Third (diagram 56)
51ft Brake Third (diagram 64)
51ft Full Brake (diagram 67)
51ft Composite (ex First) (diagram 189)
51ft Articulated Third/Third (diagram 105/106)
51ft Articulated Composite/Brake Third (diagram 107/108)
51ft Epping-Ongar Driving Trailer ex Brake Third (diagram 317)
They should be available at some point in July.
5thApril 2012
With the maths done and the rest of the price rises allowed for postage will in fact have to rise to £4 except on small parts. For some small parts such as nameplates and grilles we will be able to keep it down.
Please expect things to take a couple of weeks for delivery for the next 2 or weeks. The end of year stock take needs to occur.
29thMarch 2012
LNER all steel D.28 third released. Billinton double ended brake released. Thompson 52' sides available, full kits with interiors to follow later in the year.
28thMarch 2012
With the new prices from the Royal Mail now concerned I can confirm our P&P will be rising to £3 for most orders, and may have to rise to £3.50.
For the package sizes in the 50-250g range, which is many of our products the Royal Mail is increasing prices by over 70%, and it's not a cost we can absorb. Our suppliers will also be raising their prices as a result of this so there are likely to be significant price rises on some parts.
19thMarch 2012
Still searching for a moulder who can run the roofs in small volumes by hand or semi-automatic. Refurbishing them to run fully auto doesn't really make sense given the fact that for low volume plastic moulding as a business is going to be history in a couple of years as 3D print takes over.
On that basis unless I find someone who can run them at a sensible price then the following will occur.
Etched Pixels products - not affected
LMS coaches - not affected
GWR Monster, Giant, Siphon - not affected
GWR Hawksworth - reasonable roof stock remains
LNER Gresley - reasonable roof stock remains
Thompson 6 wheeler - unaffected as we have a good supply of partly faulty mouldings that can be used for the short roof and will then switch to 3D printed roof
Thompson 52' stock - discontinued pending eventual revamping as 3D print/etched coaches with interior
Thompson 63'6 stock - discontinued pending eventual revamping as 3D print/etched coaches with interiors
SR TPO - withdrawn until further notice
GWR 1204/6 - will switch back to the metal roof profile
GWR Hawksworth inspection saloon - withdrawn until further notice
SR Bogie B and SR Maunsell GBL - reasonable roof supply remains
SR Bogie Scenery van - withdrawn pending replacement 3D printed roof
Maunsell Coaches - withdrawn. Further decision on whether to re-do them as mixed 3D print/etched coaches will occur later this year.
Roof conversions - withdrawn. Given the fact these coaches now command a high collector value unmodified and there is little demand for them no plans to reintroduce.
A small supply of slightly faulty roofs (with small nicks in the rainstrip) is available. Please email if you want kits with these roofs at a reduced price (£2 off per roof involved).
All plans subject to revision - particularly if the RTR ranges change.
15thMarch 2012
The last of the GWR UM1205 printed sides has now been sold. It isn't practical to re-run the sides so this kit is discontinued. We can provide the rest of the parts if you can find the sides elsewhere.
11thMarch 2012
All the Etched Pixels items should now be merged into the catalogue. The next stage is to sort the catalogue out and make it easier to use. In the meantime I've added a single page index of all items to the site to make it easier to find stuff by searching.
10thMarch 2012
We are now out of the Bulleid style roof profile and therefore all of the kits using it are out of stock. We hope to have the tool transferred to a new moulder within the next four weeks.
The Dia.28 Gresley is undergoing final adjustments at this point in time. The final set of EMU ends should be arriving shortly.
6thMarch 2012
Test coach shell 3D prints arrived and built. This is mixing a polished 3D printed plastic with etches. The end result is a glue together easy to build coach will all the qualities of brass sides combined with an interior, easy assembly and fittings for adding lighting.
Some further work remains to be done on the roof in particular, to see if it is possible to produce the rainstrips correctly on a polished roof, and to finalise coupling mechanisms.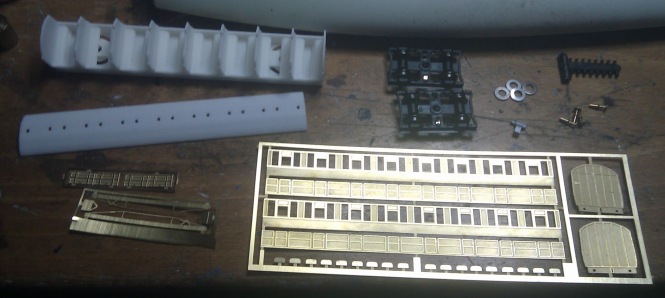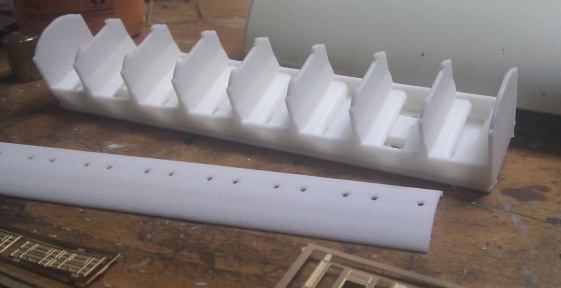 In addition the same technology means I now have a prototype roof unit which has the narrowness and profile to resume the SR 'continental' coach stock. So this can finally, over a year on, progress.
5thMarch 2012
LNER Diagram 28 all steel third test build.

3rdMarch 2012
White metal parts all now back in stock along with most etched products. The Bulleid roof problem continues but we will be changing supplier this month which should fix it.
New releases are some of the white metal EMU ends (one to come) and the LMS 50' stowage van. Hopefully final tests for the Billinton double ended brake and the LNER D.28 all steel third are in the build queue.
11thFebruary 2012
Printed side TPO's back in stock again, the first batch sold out straight away. Still waiting a delivery of white metal castings to clear the backlog on the older style SR vacuum cylinder/reservoirs and Maunsell duckets as there was a sudden mysterious large demand for them shortly after Christmas.
Currently in test building state: LMS 50' stowage van re-release, and a LNER D.28 all steel third.
19thJanuary 2012
Two chunks of website redesign work. There is now an index by coach type as well as the parts index. In addition the first chunk of the Etched Pixels product range has been merged into the Ultima site.
That may seem backwards but the Ultima site was designed later and automated to handle large numbers of items. The Etched Pixels one was not, so it is easier to merge the Etched Pixels site bit by bit into the Ultima site and then make that the Etched Pixels site too.
If you see any problems or want Etched Pixels items not yet merged please drop an email to sales@etchedpixels.co.uk and I can add it to this site.
Plans for 2012: The definite bits - other things to come with luck.
Billinton double ended brake
More LSWR block set coaches
GWR L.21 and L.22 TPO (completing the work Colin Allbright started)
Maunsell high window first and some low window stock, subject to them not appearing in the RTR catalogues as has been rumoured.
12thJanuary 2012
The production of the final mould tools for the EMU ends, various buffers and to re-run the out of stock UM270 parts is now in progress. More news once I get the first parts from it.
9thJanuary 2012
Latest piles of etches arrived and ready to unpack. That should fix some of the back order status for both Etched Pixels and Ultima product ranges.
The ducket problem with the Billinton coaches is now sorted to my satisfaction so the next batch of artwork will head off tomorrow.
27thDecember 2011
Working through the test builds. The horsebox will need minor tweaks only. The Billinton duckets need some reworking.
Also received the first spin of the new white metal bits. This includes the 'Nelson' EMU ends to fit with the Bulleid roofs, etched floors, detailing etc and other bits currently being drawn, class 313 style EMU ends, later style EMU ends (317/2 etc) to go with the 210/317/1 ends, and various buffers and other oddments.
21stDecember 2011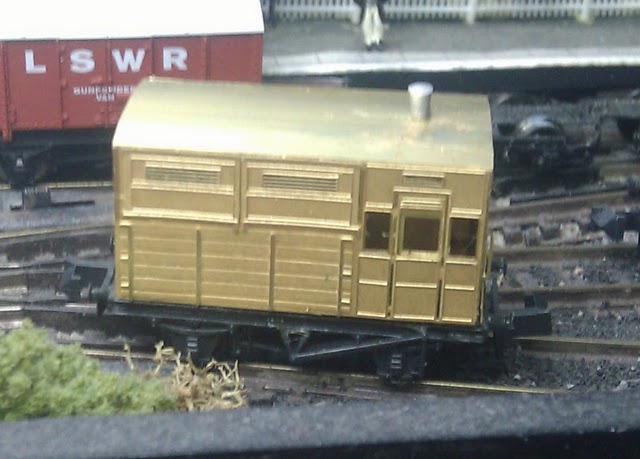 Hawksworth trusses are here as are the nameplates. Those people who ordered specials have been emailed. Those who paid - your plates went 1st recorded on the last day "guaranteed" for first class delivery so hopefully will arrive in time.
I hope to do the Billinton test builds and instructions over Christmas so they'll just about scrape 2011. The white metal nose ends will slip to early next year.
I did manage to sneak one extra item in instead. This is the test build of the ex LSWR 16ft horsebox, which will be available in both original and 1930's Southern refurbished form in January
Finally the web site now has a section listing the items for which we hold artwork but do not intend to re-run at this point - eg due to low demand, there being an equivalent RTR product etc, but which can be run to special order if people really want one. Note that not everything Ultima did was Ultima owned including some of the brass steam locomotive detail and the ABS/Beaver coach tooling.
24thNovember 2011
The Billinton Brake Second with duckets and also a Billinton Brake 3rd with duckets are now ready for test etching. The double ended brake has been deferred in favour of the much more requested brake third.
Also hopefully now coming before Christmas are Hawksworth trusses, British Rail build autocoach etched sides for the Dapol autocoach and various requested GWR loco number plates.
14thNovember 2011
The L.25 TPO is now available.
15thSeptember 2011
The Thompson BZ is released. Some types of roof are now back in reasonable stock.
22ndAugust 2011
New stock items, hundred and two hundred bulk packs of shell vents. Intended for kit producers and the like. Also the white metal version of the torpedo vents are now listed and orderable for those people who specifically want them in white metal.
Provisional New Products For The Rest Of 2011
Thompson six wheel BZ
LB&SCR Billinton Brake Second with duckets (Etched Pixels).
LB&SCR Billinton full brake (Etched Pixels).
White metal nose ends for class 210, 313, SR 'Nelson' units.
GWR L.25 TPO stock
14thAugust 2011
I've been asked many times for easy to build bogies, so after very helpful discussion with Dapol we now carry Dapol Gresley bogies. These are fully assembled and lightbar ready. At some point later this year I hope to add some of the GWR bogies to the range as well.
1stAugust 2011
No news on more roofs as yet. We still have some Gresley roofs in stock and plenty of Hawksworth but nothing depending on the Bulleid style roof is available for the moment until our supplier is back up and running.
With pretty much all the Ultima paperwork and company to sole trader stuff sorted out I'm hoping now to get a bit more time to get the various projects back up and progressing faster. Even more so in October when my OU course finishes.
For the moment however I've had time to get one of them progressed. The Thompson BZ is a complete etched kit with wheels, brass bearings, buffers white metal fittings and a plastic roof profile. I have a couple of small changes to make to the prototype (the roof needs to fit over the ends so it extends beyond them a spot and the steps on the side are in the wrong place on this one) and I want to add a couple of helpers to the etch but I'm hopefully the next test will be the production release.
This will also be a test for packaging and sales as I've had various requests to make it easy to get a whole kit without worrying about extras needed, so there will be a 'just add paint, solder, decals and glue' release.
27thMay 2011
Various bits have arrived including CCT buffers and more SR steam bogies, these will get added to the site in the next few days, along with items that have been requested including 6.2mm wheels for coaches with 3' wheels and handrail knobs for those folk who like to fit filler pipes.
Vinyl testing continues. I'm not entirely happy with the finish of the Coronation Scot test set I did so they may all end up being offered as updated etches and roof diagrams given that most of them are already done in that form. Fox already do the relevant decals.
19thMarch 2011
Thompsons are now back in stock. SR bogies will be back in a couple of weeks I hope. The UM1014 50ft kitchen car is back in etched form and the etches have been updated to include finer detail. I also have a tested vinyl pre-printed side version sitting on my desk.
New in the etched sides is UME1010 a 65ft vestibule first to diagram 1902. This was previously only available in printed side form.
26thFebruary 2011
The new stuff is now listed although some of them lack drawings and details. I'll try and get those fixed when I get a bit more time.
23rdFebruary 2011
Some order delays but mostly now cleared.
Large pile of new stuff from our suppliers waiting to get listed when I get a moment to do the needed accounting and work out what effect the price rises have had. Thompson coach floors will be a while longer yet unfortunately.
1stFebruary 2011
We now have the updated pricing from our suppliers. As a general trend everything is going up sharply, brass in particular due to the rise in the cost of brass sheet. Add the extra VAT on top of that, and the fact that shipping costs are also rising. Then for the final blow the Royal Mail plan to raise prices sharply. It's now obvious that our prices will have to rise in some cases.
22ndJanuary 2011
Thompson floors are out of stock so the Thompson coaches are mostly on back order but should be back in a couple of weeks.
14thJanuary 2011
Everything should now be up and running again. I've also fixed a bug in the shopping cart where sometimes the first item ordered would not show up properly until the page was reloaded or a second item was ordered.
Various new items in stock as well as a new supply of the Bogie-B and wheels.
5thJanuary 2011
All business of Ultima Models Ltd has been transferred to Etched Pixels Digital Design. If you have an outstanding order to Ultima it may well be fulfilled by Etched Pixels. New orders will go to Etched Pixels.
Moving onwards there will be some shuffling of the products. I'll probably put all the vinyl sides together under Etched Pixels, and also rework some of the Etched Pixels kits to include Ultima detailing parts.
Reworking and merging the websites is a pending problem, but orders placed around the same time to both will get shipped as one and some postage refunded.
22ndDecember 2010
Please note a change of address for cheque orders to

Ultima Models
106 Walter Road
Swansea
SA1 5QQ

and have a merry Christmas all.
2ndDecember 2010
Currently working on Mark 1 sides for the new Mark 1 coaches and getting a few more things back into stock. I hope to have the pullman bogies and bogie B back early new year.
I'm also doing some test re-workings of the LMS bogies with a view to updating them a bit and making them as easy as possible to build.
23rdOctober 2010
Large delivery of white metal. This includes the never previously released small monsoon vents as well as the scalloped dome vents and some of the LNWR buffers, axleboxes, CCT and sleeper ends.
The small pile of orders and waiting orders for white metal bits should therefore go out in the next two or three days. Most of them are now updated on the website but there are a few others to go.
In other news Etched Pixels has purchased the other half of Ultima from Andrew Cowling (The Yate Models shop). Over the next couple of months Ultima will be merged into Etched Pixels.
15thOctober 2010
All the LMS/LNWR etched sides are now back in stock including the TPOs.
14thOctober 2010
PC Models etches are now available for order again.
13thOctober 2010
Exams over, so I now have a bit of time to catch up with things. The next batch of ex PC Models etches (MR stock, GWR horsebox etc) have arrived and will get added to the stock shortly, along with the crimson and cream LMS coaches. The new moulds are made so the CCT and sleepers should follow shortly along with a variety of white metal parts including some re-introductions.
Also on the test bench now pending assembly are the corrected L.21, L.24 and L.25 GWR TPO coaches.
26thSeptember 2010
A final trawl through the Ultima old stock and materials produced some useful finds and an awful lot of copies of instruction sheets with the wrong address on them. The big one was a large supply of LMS livery coach sides. All the LMS printed side coaches are therefore now in stock in volume. A few like the TPO need some more research, while the CCT and sleepers need ends which will appear with the new moulds.
15thSeptember 2010
The Bulleid roof problem has been dealt with we think. The roofs are now being supplied on a sprue rather than being split from it automatically. The 63' Thompson coaches are therefore now go.
10thSeptember 2010
We are still having problems with Bulleid style roof supply.
The Thompson coach test building is in progress with just the shorter composite to test build. The test build of the LNER 60ft TPO is also under way.
On the new item front almost all the old etched LMS sides and early sides are now in stock. UME1501 is proving more complicated. I'm pretty sure I have the sides in question but am still searching for a diagram to verify them against. Also now in stock are the LMS loco fitting packs.
On other fronts the web site has had a re-organisation so is hopefully easier to use. I'll try and add some more pictures soon as well as a view by railway company feature. Timeperiods will come later as that's a lot more work and the existing catalogue doesn't have scrapping dates for a lot of the items.
24thJuly 2010
The engineers saloon has been test built and is now available.
16thJuly 2010
Still waiting more Bulleid style roofs due to some machinery problems at our supplier. In the mean time the Maunsell coach sides have been updated to nickel silver which fixes the tendancy to stretch the first few builders found.
New white metal moulds are currently being made which will see the re-release of the Mark1/2 scalloped dome vent, the first release of the small monsoon vents and general availability of various bits we are currently keeping our existing small stock of for full kits only.
Current projects are the re-introduction of the Gresley TPO kits and of the etched 63'6"/59' Thompson 2mm coach kits. The Mark 1 sides are also lined up and ready to go - but will be released to fit the upcoming new-release Bachmann Farish Mark 1 coaches. This leaves the complete LMS kits and Bulleid coaches plus oddments to fill out the range of products actually ever released in the past.
16thJuly 2010
Most of the LMS and pre-LMS sides from the 'Limited Edition' 2mm side range are now back in stock. The etches for the LNER TPO and for the Hawksworth Engineers Saloon are also now here and will be released over the next 3 months hopefully.
5thJuly 2010
At the 2mmSA 50th anniversary we released the first Maunsell coaches and the return of the Midland PC Models etches shrunk from 4mm to 2mm. It was good to meet everyone. Also back in the range are the CR detailing parts which we rediscovered.
12thJune 2010
Bulleid ends are back in stock. Oval coach buffers are now in stock. This means all the parts for the Maunsell coaches are finally present and accounted for.
9thJune 2010
The range has now been further widened.
UM321 : GWR Curly Door Handles
UME1109-15/35-43 2mm Etched Sides For Thompsons (Full kits to follow)
UME1221 : GWR Breakdown Tender
UME1235 : GWR Siphon J
UME1241 : British Rail Western Region A38-41 Autocoach (eg Test Lab 1)
UME1321 : Southern Bogie B
UME1323 : Southern Scenery Van
UME1507-11 : LNWR 50ft Coaches
I hope to make progress on the UM16xx (ex PC Models) pregrouping stock very soon. Work has also started on completing the GWR TPO vehicles (L21/2/5) from the old Ultima company that were never finished.
3rdJune 2010
TPO is now back in stock. Bulleid coach ends are on back order instead.
22ndMay 2010
TPO stock is on back order, but I hope to have some more soon. Various additional bits of white metal are back in production and have been added to the catalogue.
Conversion underframes are now in stock for the Thompson conversion of the Farish Mark 1.
30th April 2010
The UM1320 TPO stowage and sorting vans are now in stock.
21st April 2010
Artwork has now gone to the etchers for the Thomson underframe conversion to go with the vinyl sides. Along with this should be the re-release of UM1320 with an etched underframe and production versions of the etched Maunsell battery boxes.
30th March 2010
The Thompson set is now released and available. Maunsell instructions are still in progress. 63ft Thompson N scale vinyl sides are now also available for some coach types. These use a cleared Farish Mark 1 coach shell for the conversion. Suitable bogies are available from the NGS, and for those who want to do a thorough job a conversion kit of etched solebars, battery box and white metal detailing, plus roof vents and diagrams will follow soon.
Test side:
Royal mail prices rise very soon, and our postage prices will unfortunately have to follow.
16th March 2010
Various new items have arrived. Some still need instructions writing or updating. We hope to have everything back up and running by the 18th.
The items to be re-released are as follows
UM320 - LNER style door handles and drill plate
UM323 - Pack of locomotive shovels and picks
UME740/2/3 - 50/60/62ft LMS floors
UME1223 - 50ft GWR outside frame monster van
UME1225 - 40ft GWR siphon F
The new items to be released once the instructions are completed are
Maunsell R0 Third
Maunsell R4 Third
Maunsell R0 Brake Third
Maunsell R4 Brake Third
Maunsell R0 Brake Composite
Maunsell R4 Brake Composite
Thompson 52ft Suburban Pack (2 x D.340 brake third, D.339 third, D.338 lavatory composite)
Thompson 52ft D.339 third
Etched Maunsell battery boxes
Two other reworking projects are also under way. The 42ft LMS CCT is getting a rework as a fold up etched shell rather than the old aluminium and white metal floor and ends, while the SR royal mail stock is awaiting an etched floor design.
21st February 2010
The first test runs of modern cut vinyl sides using the old Ultima artwork are now receiving some tweaking. In theory given the right data the software can render anything Stanier ever built that was smooth sided - at least, for the moment, providing you want it in lined BR Maroon.
20th February 2010
Thompson 52ft4 test build.
16th February 2010
What I hope will prove to the production version of the Maunsell coaches has gone for etching. The initial vehicles are:
R0 and R4 Third D.2001/3/4
R0 and R4 Brake Composite D.2401
R0 and R4 Six Compartment Brake Third D.2102/4/5/10
I'm also finishing off resurrecting the 52ft4 Thompson suburbans as fold up shells in the Etched Pixels style with Ultima style solebars/footboards and plastic roof profile. The initial release is planned to be a four coach set of two brake thirds, a lavatory composite and a third.
15th February 2010
Aluminium roof profile and van floor profile has arrived. Various GWR brown vehicles and coaches are now therefore back in stock.
10th February 2010
Fixed a bug on the web site where Gresley kits couldn't be ordered. Also added a feature to indicate items that have not been re-introduced but where the N Gauge society has old stock available to members.
22nd January 2010
20th January 2010
The Maunsell test got a basic assembly test today including underframe. Some small glitches found as a result will need reworking as expected. This will now get fully built and detailed and used to produce the instruction sheets as well as to figure out how to produce an interior.
Any interest in Maunsell era Thanet stock ?
9th January 2010
Sorry for the delays in getting the monsters/giants available, the Royal Mail have managed to lose the roofs for the moment.
Maunsells are progressing as a joint project using the Bulleid Roof/End parts, a new etched floor/truss rods and the existing Etched Pixels sides and duckets.
29th December 2009
Most of the Gresley coaches are now available using etched floors. The triplet set can't use a standard etched floor so for the moment remains unavailable.
Hawksworth stock is now available except for the sleeper. The sleeper should follow shortly once we've verified all the parts.
21st December 2009
Hawksworth and Gresley coach floor test etches are completed and built. We hope to have the Gresley and Hawksworth coaches available in the new year. Bogies for the Hawksworth are still under investigation.
We are also experimenting in transferring the LMS printed sides to vinyl on clear plastic. Depending on the success of this some of the LMS sides will be made available again on a "print on demand" basis.
New release by popular request is the BR Mark 1 inspection saloon. This consists of the necessary sides and ends to convert a Graham Farish by BG into a Mark 1 inspection saloon.
Some roofs are on back order, we hope to have a new batch soon but that depends upon the effects of the Christmas post
19th November 2009
The following new items are available:
UM1204 GWR 57' full brake kit with printed sides
UM1206 GWR 57' brake composite kit with printed sides
UM1322 Maunsell 51' bogie gangway luggage van (Churchill funeral van)
UM1207-1213 Hawksworth sides
UM1414 BR steam heating van etched sides
UM568 LNER Gresley lightweight bogies
UM720 57' GWR etched floor/solebars/bogie mounts
UM721 70' GWR etched floor/solebars/bogie mounts
UM312 BR 57' underframe kit
UM315 BR GUV underframe kit
We are currently working on roofs for the GWR monster/giant vans, roofs for the other GWR printed side coaches, and Hawksworth coach floors. As these are resolved further full kits will be introduced. We can supply monsters and giants without roof if you wish to make your own in the meantime. Send an email if you are interested.
Answers to common questions we get by email
What about the LMS stock ?

With the strong range of RTR LMS stock from Bachmann we've chosen not to prioritise the LMS stock. There are also problems around roofs and bogies that need to be solved before they are released.

When will the LNER kits be available ?

As with the LMS stock we are prioritising areas that are not duplicated by RTR vendors. If you are willing to produce your own floor then you can build a Gresley coach. We hope to post instructions for making your own plasticard floor shortly. The Thompson stock is on the list for re-introduction at some point next year.

I hear the Bulleid coaches will not be reintroduced ?

This is the current thinking as Bulleid coaches have never proved popular. The N gauge society still has stocks of the orignal release sides from ten years ago.

Can you do me a one off of kit XXXX ?

The kits are run by the sheet so unless you are keen enough to want at least half a sheet worth, or can find a bunch of friends who also want one then the answer is usually no. If we have the parts and a big enough order (usually 10-15 sets for sides, but as low as about 5 paid up orders for some of the full coach kits) we'll do our best. EMail for more information.
10th November 2009
The Thompson matchboard corridor full brake is now available again. The 63ft underframe and the Carflat are now being sold as kits and not etches and include the correct white metal parts.
5th November 2009
Plastic roofs have now arrived. We have stocks of the roof mouldings for the Gresley and Bulleid coaches as well as Hawksworth roofs and ends. This also means that some of the old Farish conversion kits are now available.
The web site has had a bit of styling exercise done on it. The images have also been trimmed to sensible sizes. Now that the production and supply side is more under control expect the web site to continue to improve.
26th October 2009
Large quantities of the white metal parts are now listed and available for order along with many of the etched components. We hope to have roofs in the next couple of weeks and at that point begin re-releasing some of the full kits.
The following conversion kits can now be reproduced but subject to a minimum of ten confirmed orders @£7.50 per set (£10/set for the Inspection Saloon as it also includes ends). Lower prices for a larger volume order. Most of these were designed to fit the Mike Howarth shells (often with some adjustment).
| Code | Description |
| --- | --- |
| UME1001 | LMS 50ft Full Brake |
| UME1020 | LMS 50ft Inspection Saloon (with ends) |
| UME1026 | LMS 42ft BGV |
| UME1045 | LMS 60ft P4 open first (porthole) |
| UME1046 | LMS 57ft Full Brake |
| UME1047 | LMS 60ft P4 corridor composite (porthole) |
| UME1048 | LMS 60ft P4 corridor brake first (porthole) |
| UME1049 | LMS 57ft P4 corridor third (porthole) |
| UME1051 | LMS 60ft P4 corridor first (porthole) |
| UME1054 | LMS 57ft P4 corridor brake third (porthole) |
2nd July 2009
Online ordering is now available.
26th June 2009
Ultima products can now be ordered by cheque payable to Ultima Model Engineering Ltd, 571 Southmead Road, Westbury-on-Trym, Bristol, BS10 5NL. P&P is £2 or by paypal (email and we will send you an invoice). The shopping cart will be up in the next few days.
A list of re-released items was available here. There are some code changes because electronic ordering needs a unique code for each item, which the original Ultima catalogue does not have. The actual digit part of the code has been kept the same to assist people in finding the right parts.